To enable you to be at your best and do whatever it takes for people living with cancer, we have an amazing colleague support offer which includes:
Our Voice

This is our employee forum, an independent voice representing staff views and helping to make changes at Macmillan.

With approximately 32 reps covering all directorates, the reps are available to support you with anything. From accompanying you to a formal meeting (such as a performance or probation meeting), talking through issues you may be experiencing with a colleague, to advocating for you on things that matter to you, and giving you a safe space to speak up and be heard.

"Our Voice is the sector leading colleague voice in Macmillan. We have approximately 37 representatives covering every area of the organisation, which I am proudly one for our people function. I support my colleagues in a variety of ways by giving our employees a safe space to speak up and be heard and advocate on behalf of them for things that really matter. I also provide support by talking through issues and if ever required, along with supporting them through any formal meetings they may attend. Ultimately Our voice are hear to make Macmillan an employer of choice and a great place to work for everyone."

Sam Dewey, Senior Reward Manager

Safeguarding and Welfare Team

we have a team dedicated to supporting staff health and wellbeing, to allow people to live free from abuse, harm and neglect. They are available to Macmillan colleagues 24 hours a day.

Mental health first-aiders

we have trained members of staff who can provide instant support and signpost you to further support when you are struggling with your mental health.

Wellbeing Champions

We have people in all directorates who are dedicated wellbeing champions. Their role is to signpost colleagues to wellbeing support and information, and organise activities to promote wellbeing.

Employee Assistance Programme

You can access confidential support and advice on a number of topics. This can include free counselling sessions.
Employee Networks
A key element of our EDI work is making sure our colleagues feel heard and have a safe space to connect with people like them. We are proud of our employee networks, which provide this space, and an opportunity for staff to hold Macmillan to account when it needs to do more to become equitable, diverse and inclusive.
Each network is led by a Macmillan colleague and sponsored by a member of the Executive Leadership Team.
Our current 7 employee networks are:
BAME employee network

For our Black, Asian and Ethnic Minority colleagues.

Disabled employee network

For our disabled colleagues or those with long-term health conditions (physical and/or mental health).

Employees living with cancer employee network

For our colleagues who have/have had a cancer diagnosis.

LGBTQ+ employee network

For our colleagues who are members of the Lesbian, Gay, Bisexual, Transgender, Queer plus community.

Mental Health employee network

For our colleagues who are interested in advancing mental health support and understanding at Macmillan.

Neurodiversity employee network

For our neurodivergent colleagues who have cognitive functioning different from what is seen as typical (for example autism, ADHD, dyslexia and dyspraxia).

Working Families employee network

For our colleagues who are thinking about, about to or have gone on any family-friendly leave.
BAME employee network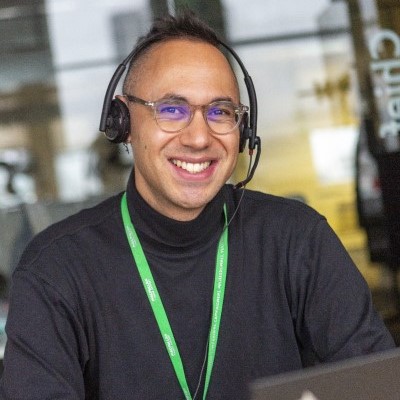 Hello everyone! My name is JG and I'm proud to be one of the co-chairs of the Black, Asian and Minority Ethnic Employee Network (BAME) at Macmillan.
The purpose of our network is to primarily provide the space for BAME colleagues to share with one another, listen and learn from each other and support one another. We also serve as a collective platform through which we can highlight issues and advocate for BAME colleagues.
As a network chair it is my responsibility to represent and try to advocate the views of network members. I also see it as working with other networks and colleagues within the organisation, to try and bring people closer together to listen and better understand the issues faced by BAME colleagues.
Jean-Gabriel Tarassenko, BAME Network Chair